EDUCATION FOR CUSTOMER
REVENUE TEAMS
We offer education services to enable your customer success and support teams.
We are passionate about helping people thrive in their careers and lives as we did in ours. Our goals are to inspire, motivate, coach, and guide individuals to their highest potential.
Professional Development
.
Elevated
.
At Growth Molecules we offer a variety of learning paths to embark on, elevating your growth to new heights. From on-demand or self-paced and learn as you go, to private hybrid learning programs for your large group or department to evolve into a stronger, more strategic, revenue-leading team in your organization. Education is that powerful and with our learning options, get ready to achieve your goals.
PRIVATE EDUCATION, flexible schedule
Grow Your Team
Elevate your team's professional development to highest potential by growing your team through our
private education
programs. Our programs are customized throughout the entire learning experience on a flexible schedule with a dedicated certified instructor. Your program will be completely tailored to align with company practices and needs from registration through our learning platform, from course curriculum and session objectives, and more.
"If you want to train up
your Customer Success team to operate at a higher level, or even level out the playing field for a team of varying experience levels and backgrounds, Growth Molecules™ is the best in the biz!"
Melissa McMillan
VP of Customer Success
Screencastify
"Growth Molecules™ led a comprehensive training program for our CSM team. Our team was well versed within specific knowledge of the medical and urgent care market, but needed help in the art and science of being a CSM for a recurring revenue software company."
Brian Wilson
Chief Client Officer,
Experity
What's included?
All of our learning paths include a growing list of reasons to elevate your
learning with
Growth Molecules™.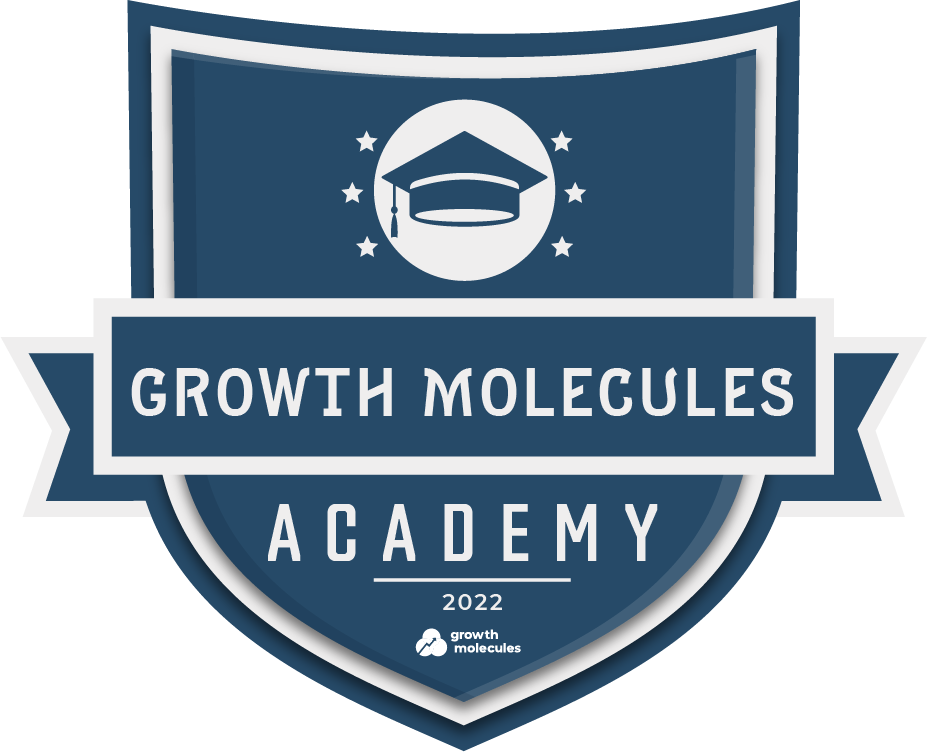 Certified Coaches & Experience Industry Leaders
Our team has more than 100 years of experience in Customer Success who collaboration, create, and craft each course with the learner in mind.
Unique Learning Paths
Learning paths have been craftily detailed to provide learners with the best experience and outcomes, able to apply methodologies instantly and see immediate impact.
Hybrid Learning Model
We offer no powerpoint or decks, but rather live coach-led sessions and guided
on-demand activities to enhance your learning.
Assignments & Certification
Materials and resources extend your learning outside asynchronous instruction influencing your daily interactions with customers and team members.
A Growing Community
With each program and course, our network of industry leaders and learners expands. Become a part of it!
Referral Program
Graduates become part of a referral program, sharing their success story with others with opportunities of swag coupons, additional discounts, and more!
on-demand, self-paced
Grow At Your
Own Pace
Our
on-demand, self-paced
library offers learners the flexibility of growing their knowledge, at their own pace. Single courses and bundles offer a range of independent, asynchronous opportunities to accomplish your goals and elevate your professional development skills.
"Each one of the classes helped me take what I've been doing in my past positions and really apply it to the CS mindset. It helped me see the value in my experiences, and really brought to light for me how I can make that transfer to my new position!"
Lindsey Neff

Customer Success Manager, Lexia Learning
"I found the frameworks were most valuable as the acronyms allows us to remember the methodology easier. I enjoyed the breakout sessions with the other students and found that they are one of the most enjoyable parts of the course."
Jack Apibunyopas
Sr. Customer Success Manager, ServiceNow
LIVE TRAINING, fixed schedule
Grow with Others
Our
live training, hybrid learning
programs offer one-of-a-kind weekly and asynchronous opportunities to network, learn, practice, and apply industry themes and topics in a fun, interactive, and engaging format. Led by our certified educators and experienced coaches, this fixed scheduled program helps you to learn with a variety of SaaS colleagues from companies around the world.
Training
Benefits the
Growth Molecules™
Way
Our education series is accredited by the Customer Success Association. There are knowledge checks throughout the series to ensure the students retain the information and a final case study question where the students apply what they learned to real-life scenarios.
Your team can start using the concepts they learn in the series immediately after the classes. The sessions are highly interactive and engaging whether they are live or over Zoom. Breakout sessions, polls & role plays are incorporated in all courses.
We work with clients to understand what key challenges the team is experiencing and deliver experiences to positively impact businesses and teams. Sessions are offered via Zoom or in person.
We coach and educate teams on the power of Emotional Intelligence, Tone, and apply leadership strategies in all of our classes. Students complete the sessions with not only a certification but empowerment to feel more confident to lead customer relationships.
The Growth Molecules™ Education Series are
CSA Accredited
Our Academy with your words
#is unexpected | #is awesome | #has real-life scenarios | #a worthwhile investment | #is the best
"We brought in Growth Molecules™ for executive coaching, and to help our team build scalable processes across our customer segments, an investment that paid off immediately.

Our team is applying the new frameworks they learned to real-life scenarios with a revived sense of purpose and intentionality."






"The Growth Molecules™ team came in and quickly created an amazing transformation for Givelify. They collaborated with our teams to create profound change that led to greater team cohesiveness; enabling everyone to forge better customer relationships and increase product adoption. The Growth Molecules™ vision for our team helped us to see where we had gaps while giving us hope that we could continue to grow while launching new systems and creating new processes — helping our team operate at a much higher calibre."


"Emilia is an outstanding leader and mentor. She readily identifies areas to use technology to scale and improve processes. She designed our end-to-end on-boarding process and gathered feedback from customers so that we were continually improving our performance. She also designed and led our customer webinar program. Emilia has managed large teams and has also been a high performer working with a number of successful start-ups. I highly recommend Emilia and would be delighted to work with her again."


Lorna Henri
VP of Customer Success